Wonderful & Dedicated
Our Coaches
They are the life-line and heartbeat of our program.
We are thankful for the hard work and dedication that they provide day in and day out.
Suzanne Aaron
Suzanne Aaron has lived with and raised a variety of animals and is a firm believer that proper training is the key to creating a harmonious human to K-9 relationship. This relationship creates a respectful bond that will keep you and your pup happy at home.
Suzanne's belief is that a large amount of the homeless pet population is a direct result of lack of training (both owner and pet). She has a knack for evaluating the dog and handler and finding a method that fits them the best.  (After all…#dogtrainingisaboutthepeople!)
She has bred, raised, and trained Labrador Retrievers and German Shepherd Dogs for over 30 years. She currently has 3 German Shepherds, 2 Bouvier des Flandres, 4 Beagles, plus several rescue and fosters dogs. She has a good knowledge of working class dogs and issues that can accompany those breeds. Finding the right job/exercise activity and working out a dog's energy are vital to determining the best solutions for you and your pup.
Ginger Ament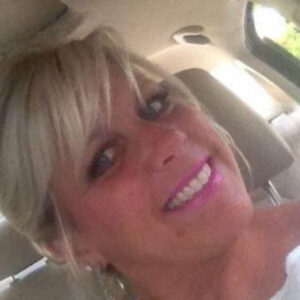 Ginger became involved with TAOK9 Unleashed in 2017 when she certified her two Dobermans as Emotional Support Animals. With a degree in Psychology and Sociology, Ginger truly enjoys helping with coaching and being there for all those who need encouragement and support. She became a TAOK9Unleashed team member in December 2018, assisting Suzanne Aaron with coordination of training and boarding. Ginger is also responsible for the business operations of the service dog training programs.
Ginger is a native Georgian and currently resides in Dawson, Georgia with her husband Ed and dogs Argus (Doberman) and Benson (Newfiedoodle).
Martha Boone
Martha Boone started volunteering with Suzanne about 5 years ago. Like most of the trainers, she met Suzanne when she started taking her dog to TAO classes. Eventually, she began helping with training other dogs.
Before retirement, Martha was a criminal defense paralegal with the public defender in Atlanta. She's always been very active and enjoy hiking, swimming, biking and running…which looks a lot more like walking these days. Her favorite event is the Canine Biathlon. Four miles, 40 obstacles and you get to do it all with your dog.
Martha has fostered and adopted 3 dogs from Coco's Cupboard. She's always amazed at the transformation in a dog once they are in a safe, loving home environment. Her unwanted, abused Riley is now a therapy dog. She brings joy and comfort to staff and patients when they visit the hospital.
Nicole Cartwright
 My name is Nicole Cartwright. I am an Army veteran who received my service dog from Tails of Hope in 2016. We now have 3 dogs from Coco's, Kai my service dog and our two foster fails, Falcon and Max. My journey with Kai was very difficult at first and it took us awhile to get things right. We had to work extra hard to get through the beginning stages but I like to think we are a great team now. Without Kai I am 100% sure that I would not be here, knowing that my dog helped me get my life back pushed me to start volunteering.
In 2019 we opened our home to foster service dog candidates to get them ready for the new Veterans. Each and every dog that has come through our door has taught me something new and fostering the dogs ignited a passion for dog training. To date we have fostered 26 dogs from Tails/ Coco's and throughout that time of hands on experience I have worked to absorb as much knowledge as I can from Suzanne and the other volunteers.
In 2020 I chose to further my knowledge by attending a GA accredited technical school for dog training achieving their highest certification as Master Dog Educator/Trainer. I look forward to continuing to use my skills volunteering for Tails of Hope/Coco's Cupboard sharing knowledge and helping others to train their service dogs. 
Barbara Coakley
Barbara Coakley became involved with TAO K9 Unleashed after meeting and training her personal dogs with Suzanne Aaron, TAO K9 Unleashed owner and head trainer. Barbara brought home her first rescue animal at the age of nine and has not stopped since then – she was devoted to helping animals and that devotion has not ceased. Barbara is a head trainer for TAO K9 Unleashed, where she participates in teaching group training, as well as doing private lessons and evaluations. She also serves as committee lead on the training committee for Coco's Cupboard Inc. She is passionate about training and helping people with their dogs. 
Barbara is originally from Long Island, New York, where she was a Police Detective until she retired from the Suffolk County Police Department and relocated to Fayetteville, GA in 2003 She lives with her two daughters, Kristin and Lauren, along with her dogs Finn, Zora, and, Nemo as well as Kurt the cat.
Danielle DeLeon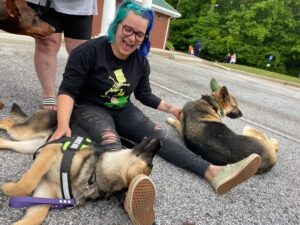 Danielle started her journey with dogs at 17 years old after moving out on her own, her first dog was a working line doberman. With that her passion was born to train dogs. She has always had working breeds and loves the challenge. Danielle started off as a client with Tails of hope being matched with her second service dog.
Her passion to help others drove her to work hard with her personal dog, and soon she wanted to give back to the program that helped to save her life. Her life is dedicated to her family which includes two German shepherd dogs(service dog's Echo and Jinx), bully mix(Melody), and great dane(Juniper).
Anna Elizabeth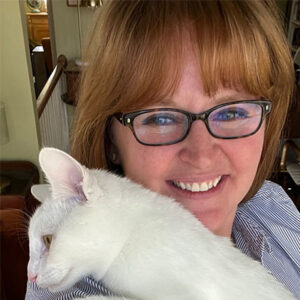 At the beginning of each Tails of Hope class, Suzanne asks that everyone, from students to coaches to volunteers, to introduce themselves and their dog. As one of the photographers for TOH, Anna was near the end of the roll call. So, "My name is Anna-Elizabeth and I have cats" usually gets a chuckle. Don't tell the dogs, but I have cats because I'm allergic to dogs.
Todd invited her to a class several years ago and she was hooked from the first five minutes. Seeing the progress each team makes from month to month is the best kind of magic, the kind that comes from dedication and hard work. Aside from watching the confidence grow in each person and puppy, just being able to spend time with dogs is an absolute treat. She gets her fill of ear scratches and puppy hugs. Celebrating the wins in class, rooting for them from behind the camera as they try something new, and being able to jump in with a poo-bag or a free hand to hold a leash are the reasons she keeps coming back.
Tails of Hope builds freedom by transforming unsure people into confident handlers and dogs into life-saving (and life-loving) medical equipment. And Tails of Hope is home, even for someone who is allergic to the medical equipment.
Kathy Fleck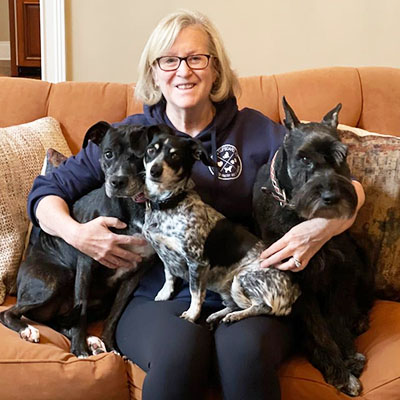 Kathy Fleck began volunteering with Coco's Cupboard five years ago after retiring as a Managing Director at Deloitte Consulting and was subsequently a key driver in the formation of Tails of Hope. Kathy uses her business knowledge and organizational and writing skills to help develop strategies and business plans for Coco's and TOH and serves on the TOH Board of Directors. In addition, Kathy leads our Grant Committee, and works with the Marketing & Social Media team as one our groups' photographers.
Kathy lives in Peachtree City with her husband, Bob; her brother, Ron; and their 3 dogs, Rocky, Dexter and Neena.
Gena Hart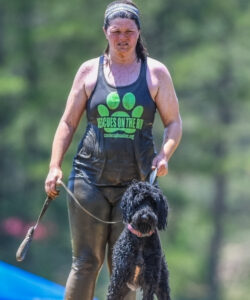 From a small town in south Georgia, Gena Hart became acquainted with Tails of Hope after meeting Suzanne Aaron as she started her service dog journey with her cardiac alert dog, Maggie, in 2018. While working as an RN, Gena was diagnosed with Dysautonmia, a condition causing her to faint without warning. Wanting to give back to the group that changed her life, Gena began volunteering as a trainer and obtained her AKC Evaluator certification.
Aside from being an amazing service dog, Maggie has competed in canine biathlons and is an AKC Expert Level Trick Dog. As a team, their training focus is helping mitigate handlers' disabilities through specialized tasks, such as medication/water/phone retrieval, finding help, utilizing a K9 alert phone system, opening/closing doors, turning lights on/off, fetching dropped items, finding lost items, etc. They also enjoy providing service dog education and demonstrations to the community, schools and civic groups.
Todd Johnston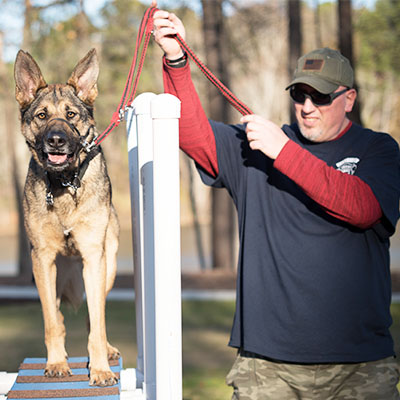 Todd Johnston worked for nine years in law enforcement, where he met his favorite veteran, his future wife, Gail. After Gail went through service dog training with their dog, Reilly, with Suzanne as her trainer, Todd saw the effect that having a service dog had on his wife and friends. He knew he had to help others find what Gail had found, so he became a volunteer, helping Coco's where he could, and later helped Suzanne start Tails of Hope.
Todd is the Volunteer Coordinator for Coco's Cupboard and the President of Tails of Hope.
Cindy Leseueur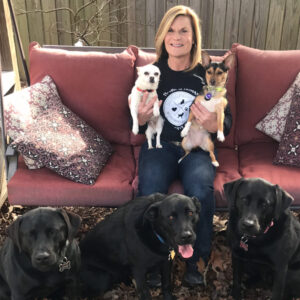 My name is Cindy Leseueur I have been with Cocos Cupboard since 2015. There's not a doubt in my mind that God put me with this organization to try to help both people and animals Reach their full potential. One of the most rewarding parts of coaching is watching a broken and rejected animal come into a hurting persons life and watch the two of them heal each other. I can think of nothing more rewarding!
I am blessed to have a wonderful husband, two children and five grandchildren.
Carolyn May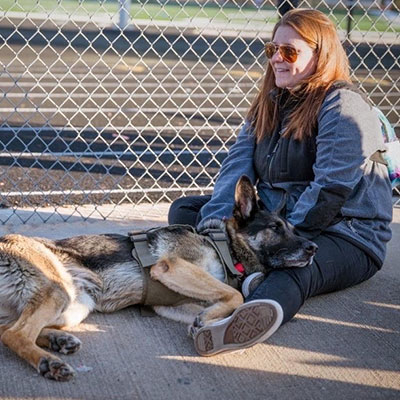 After serving in the Air Force for five years, Carolyn May retired in 2015. Feeling as though she lost all of the comradery that the military provided. In 2018, she was matched with a rescue dog from cocos cupboard. Ninja saved her life by comforting her during the worst of times. She is strongly drawn to helping others experience the same joy that ninja brought her.
Carolyn started volunteering as a trainer in 2018. In 2019, she graduated from Troy University with a master's in psychology and counseling. She specializes in ABA and has a passion for working with autistic children (many who benefit from having a service dog). She has been working in the behavioral therapy field since 2017.
In 2020, Carolyn moved to Georgia to be with her cocos family. She has made it her passion to train new service dogs and provide outreach and resources to veterans. Her goal is to give back to cocos cupboard by training the rescue dogs and preparing them for their new purpose.
Brenda Miller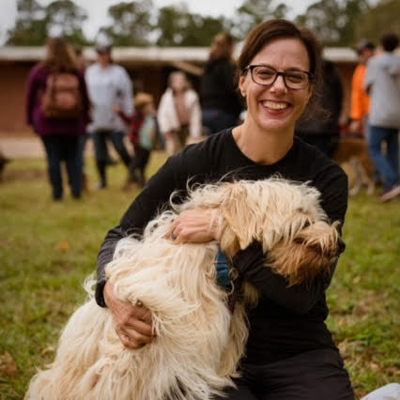 Brenda Miller has been volunteering with Coco's Cupboard for 3 years. She has fostered several service dogs in training, helps coach Tails of Hope Classes, and assists with our Mutts and Butts fundraiser.
She also is training to become an AKC Evaluator.
Natalia Nizker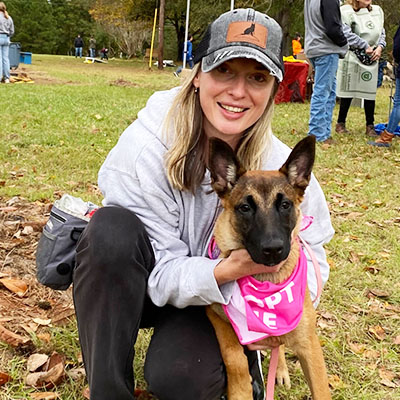 Natalia Nizker began her journey of working with dogs while training her own pet dog Tabby with TAO K9 Unleashed. It was such a blessing to meet and work alongside a group of the most kind and caring people who put the needs of others before their own. Natalia quickly fell in love with the mission and started helping out with obedience and service dog classes. She later became a Certified Trick Dog Instructor and an Animal Actor Evaluator. She believes in choice-based, game-based positive reinforcement training where work is play and play is work.
Natalia's pack consists of German Shepherd Dog Tabby and Belgian Malinois puppy Kinna who was adopted from Coco's Cupboard. Natalia feels honored to support and be a part of this organization!
Cristi Waller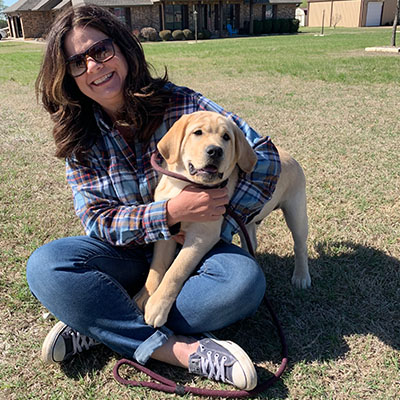 Cristi's husband surprised her on her 31st birthday with 2 yellow lab puppies. She quickly realized she was over her head and joined a local puppy class. She learned it was more about teaching humans how to correctly communicate with their animals than teaching the dogs. She fell in love with the training process.
She has fostered many dogs through Coco's Cupboard and helps train service dogs for Tails of Hope as well. Cristi's pack currently consist of a GSD, Great Dane, Great Pyrenees and a Lab mix. You can find her leading the advanced classes at group training, doing scent training for fun or out on a hike with her pack.