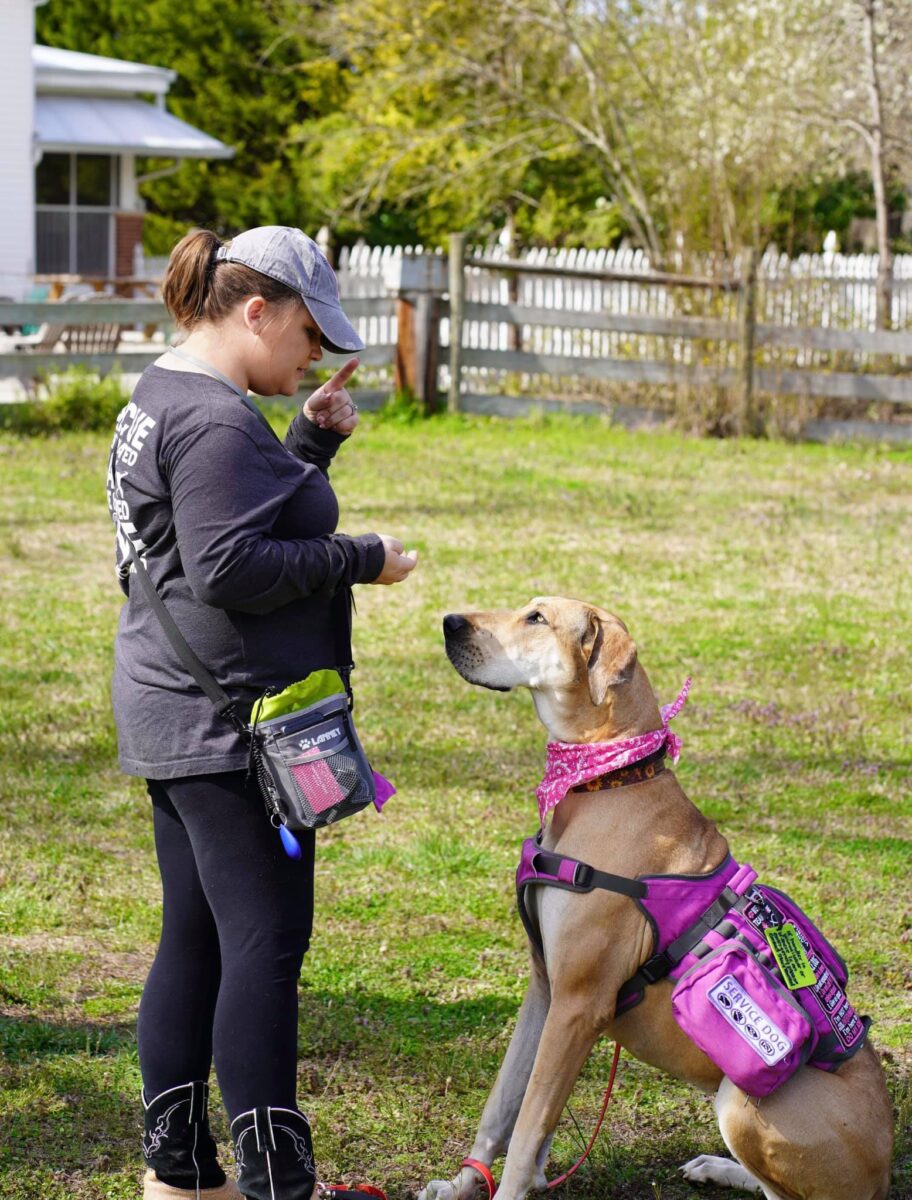 We are proud to provide service dog training and support
for both Private Clients and Veterans of War.
Our program is flexible and gives you the opportunity to choose a plan to fit your budget. In addition, you can come with your own dog after an evaluation from our trainers.
If you do not already have a dog that you want to train, you can choose from our selection of dogs that have been evaluated and of whom many have already started their training.
We provide continued coaching and assistance throughout your service dog journey. #trusttheprocess
Upon approval of application, we will work with clients who either do not financially qualify for non-profit financing or cannot wait for years to receive a service dog.
You & Your Service Dog
Finding the Perfect Match
We take great pride in helping service dog owners become better handlers.
The matching process of dog to handler is one of the most important steps. The client must match the dog. Not every dog is right for every situation or type of service.
It's important that you trust us when it comes to matching the dog to your need(s). We believe that there is not one breed of dog that is the best service dog.
You will see a wide variety of dogs in our program. We will adapt your training to your circumstances and team needs. #matchmaker
Service Dog
Standards
A service dog should meet basic obedience standards such as those under the AKC CGC test.
They must also be able to perform Public Access Standards (now the AKC Urban CGC). A handler must be willing to put in the time for training. A minimum of 15 to 30 minutes daily working on behavior and task-reinforcement training.
It is a big commitment and the entire family needs to be on board and willing to help. Everyone must be on the same page in terms of commands and rules.
Service dogs generally receive 6 months to a year of training on obedience and public access manners as well as task work.

However, ongoing training and work is essential to make a good working service dog. Every opportunity in the vest is viewed as continued training.
Remember, you get what you put into this program. You and your service dog are a team and our role is to provide the support you need to succeed. #bebrave